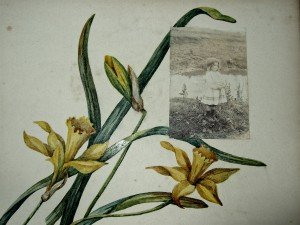 This gold-blocked album 'Memoirs of Chideock' was originally given in to The Anchor Inn many years ago but any information had been lost in the realms of time. It was agreed that it should be placed in the care of the Chideock Museum.
Not only is local village history depicted in this album but there are also beautiful hand illustrations of local flowers and shells to accompany the photographs on the seventeen, 12" x 8", completed pages. We have been able to link many of the cottages and views in these early photographs of Chideock village. The general concensus seems to be that these photographs were taken between 1880 and 1905 when commercial photography was in its infancy.
Somebody had spent a lot of time decorating the pages and photographs and obviously had great affection for the photographs and the Album. But who? The only clue was the name Agnes St.John, Tatchley House, Finchley written on the fly sheet.
After extensive research we have now found out a little about the lady in question.
MARY AGNES SYBIL SHELTON was born in Tatchley House, Cheltenham in 1873. She was the daughter of FREDERICK SHELTON born in 1821 in Brighton, Sussex and JANE SHELTON born in 1831 in Beckford, Glos. In the 1881 and 1891 Census they were all living at Tatchley House, Cheltenham together with an older sister Catherine Florence Shelton. The occupation of her father was Army Captain. The 1901 census shows MARY AGNES as residing in Bournemouth as a 'visitor'. Also residing as a 'visitor' is Helen C.M. St.John – sister to Robert Henry Beauchamp St.John.
At the age of 28 MARY AGNES SYBIL SHELTON married ROBERT HENRY BEAUCHAMP ST.JOHN at St.Gregory's Catholic Church in Cheltenham in the week of October 2nd 1901.
ROBERT HENRY BEAUCHAMP ST.JOHN was born in 1879 in Hampstead. He was the son of THOMAS ST.ANDREW ST.JOHN born in 1853 in Bombay in India and CECILIA ST. JOHN (nee Lavie) born in 1855 in Hambledon, Hants. The occupation of his father was Lieutenant in the Royal Navy. In the 1901 Census ROBERT HENRY BEAUCHAMP ST.JOHN is residing at the family home in Canfield Gardens, Hampstead and his occupation is 'Stockbrokers Assistant' although he later followed a military career (maybe due to WWI).
MARY AGNES AND ROBERT HENRY ST.JOHN resided in Finchley at a house strangely also called Tatchley House. After her fathers death in 1899 the family home 'Tatchley House' in Cheltenham was sold so perhaps the cherished name was applied to the house is Finchley. MARY AGNES gave birth to a daughter DOROTHY MARY BEAUFORT ST.JOHN on 10th July 1902.
It is conjecture that the child in one of the photographs is their daughter Dorothy and would date the photographs to about 1903/1905.
Sadly, MARY AGNES died in September 1915 at the age of 42 in Amersham, Bucks but her memory lives on in this handsome leather bound 'Memoirs of Chideock' Photograph Album.
ROBERT HENRY ST.JOHN remarried in 1916 to EDITH MARY HUTTON born 25.11.1894. They had two more children – PETER CAPE BEAUCHAMP ST.JOHN BORN 1917 and MARGARET M. ST.JOHN born in 1919. Tragically, PETER who was a Flying Officer was 'shot down' and killed in WWII and buried in Amersham. By this time his father ROBERT HENRY has gained the title of Lieutenant Colonel.
We surmise that perhaps the photographs were taken during a visit to Chideock maybe to The Chideock Manor as guests of the Weld family with their military connections. Research continues………..we would love to find out more about DOROTHY MARY BEAUFORT but in the meantime please enjoy the 'pages of the Memoir Album' which are to be displayed on this website over the coming months.